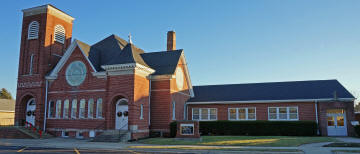 Web Site Updated: September 15, 2019
Scripture for September
Proverbs 16:24 NIV
Kind words are like honey-sweet to the soul and healthy for the body.
Thank you!
Rev. Dan Fultz, Guest Pastor for our Sunday Service on September 15, 2019
September 2019 Events at First Baptist Church
September Choir Practice 7 PM (Every Wednesday)
September 17 Women On A Mission Taco Tuesday 6 PM
September 19 Finance Committee 7 PM
September 25 "See You At The Pole" 7:30 AM Sullivan School District
September 26 Meal for Caravaners (Habitat for Humanity) at noon
September 29 Social Hour between Sunday School and Service
Women On A Mission Outreach Project - Pen Pals with Becky Stanton's School in Hungary
Please join us at First Baptist Church!
First Baptist Church is fully handicap accessible.
First Baptist Church celebrated 135 Years in 2018.
We Are American Baptists
We Want To Know More About God Each and Everyday.
Jesus is Lord and Savior. We are guided by God's Word through the Holy Spirit.
We Are People of Faith
We Want To Make Him Known To Everyone.
We are called to evangelism (Matthew 28: 19-20)
We celebrate two ordinances: Baptism and The Lord's Supper open to all of the Lord's redeemed.
We Are People In Mission
Through Worship, Witness, Nurture, and Ministry We Shall Serve God.
We are congregational in polity. We are committed to mission in our own community, in our nation, and throughout the world.
World Mission Offering Recognition
American Baptist International Ministries celebrated 200 years of ministry in 2015. Organized in 1814, as the first Baptist International mission agency in America, International Ministries began its pioneer mission work in Burma and today works in Asia, Africa, Europe, the Middle East, and the Americas serving more than 1,800 long-term and short-term missionaries. Its central mission is to help people come to faith in Jesus, grow in their relationships with God and change their worlds through the power of the Holy Spirit. International Ministries (IM) works with respected partners in over 70 countries in ministries that meet human need (IM, 2014).

Click HERE to navigate to our Certificate.
First Baptist Church Documents and Monthly Events
Click HERE to navigate to Monthly Events of Planning Council September 2019 - January 2020.
Click HERE to navigate to Bible Verse Calendar for 2019.
Monthly Breakfast - Men's & Women's First Saturday of Month
Women On A Mission (WOAM) Society Meeting Monthly
Christian Education Board Meeting Monthly
Deacons' Meeting Monthly
Trustees' Meeting Monthly
2019 Quarterly Business Meetings - January 20th, April 21st, July 14th, and October 20th
Choir Practice 7:00 PM Wednesday beginning September 2019